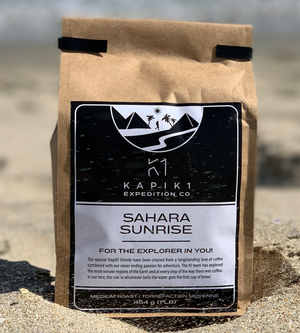 Every Epic adventure begins and ends with an equally epic set of memories. Our journey at KapiK1 began on the shores of the Red Sea, after a 4,500 mile traverse on foot of the Sahara Desert. Coast to coast in 111 long, hot, leg busting days, our mornings began the only way they could on such a daunting expedition. With coffee in hand, reflecting on the beauty of the Sahara, allowing us a much needed solitary moment in time. 
No matter if you're pushing your limits on your next expedition or from your favorite easy chair, you'll clearly taste the notes of caramel, baked apple, and a bit of toasted nuts.

TRUST US, ONE CUP WILL NOT BE ENOUGH!

Whole beans, KapiK1 Coffees are roasted and blended in Encinitas, CA USA. All KapiK1 Coffees are fairly traded. 
MEDIUM ROAST COFFEE | 1 lb (454g)
PROUD SUPPORTER OF IMPOSSIBLE2POSSIBLE
2% of the proceeds from KapiK1 goes to support impossible2Possible, keeping youth expeditions and programming FREE!